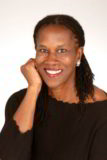 Long before the written word the history, traditions and cultural values of African people were passed down orally. When Africans were brought to the Americas, the storytelling tradition continued. These traditional tales and songs are the foundation upon which many of today's African American storytellers stand.
Charlotte Blake Alston grew up in the segregated 1950's in a family, neighborhood and church community that valued, maintained and celebrated their unique traditions and legacies. While her community was maligned from the outside, she was spoon-fed its cultural riches from the inside. She breathes life into traditional and contemporary stories from African and African American oral and cultural traditions.
Her solo performances are often enhanced with traditional instruments such as djembe, mbira, shekere or the 21-stringed kora. In 1999, Charlotte began studying the kora and the West African history-telling traditions of Senegal, Mali, Guinea and Guinea Bissau. Her teacher was the highly respected Senegalese griot (jali), the late Djimo Kouyate. She has recently resumed her studies with Malian Virtuoso Yacouba Sissoko.
She brings her stories and songs to national and regional festivals, schools, universities, museums, libraries and performing arts centers throughout the United States and Canada, as well as local and national radio and television. Her repertoire is wide and programs are adapted to any grade level or age group. Charlotte was one of four Americans selected to perform and present at the first International Storytelling Field Conference in Ghana and was a featured artist at the Second Int'l Festival in Cape Town, South Africa. In the summer of 2005, she was the sole American selected to perform on a main stage at the STIMMEN: Voices Festival in Basel, Switzerland and The Cape Clear Island Festival in Ireland.
Charlotte was the Director of "In the Tradition…" the 14th National Festival of Black Storytelling. She is a recipient of the Zora Neale Hurston Award, the highest award bestowed by the National Association of Black Storytellers. Charlotte has received numerous honors including the prestigious Pew Fellowship in the Arts. She was selected as Philadelphia Magazine's "Best of Philly" and was the recipient of the Commonwealth of Pennsylvania Artist Of The Year Award (The Hazlett Memorial Award), which recognizes individual artists "for excellence in the Commonwealth." Charlotte holds two honorary PhDs and received the Circle of Excellence Award from the National Storytelling Association.