Bill Harley
Featured Teller
Children's Concert
A prolific recording artist, Bill has produced thirty-five award-winning recordings, garnering two Grammy awards, numerous Parents' Choice awards, and recognition from the American Library Association and The National Parenting Association. Well-loved for his children's music, books, and telling, Bill Harley is a fantastic, fan-tested adult teller who has been featured at the National Storytelling Festival. He's won the National Storytelling Network's Circle of Excellence Award and the Storytelling World award. Known as the "Mark Twain of contemporary children's music," Bill also is a prolific author. His first novel, The Amazing Flight of Darius Frobisher, was chosen by Bank Street School of Education as one of the best children's books of the year and his second novel, Night of the Spadefoot Toads, was awarded the Green Earth Book Award as best environmental book of the year in the children's fiction category. His newest work is a series about the trials and tribulations of fourth grader Charlie Bumpers. The first book in the series, Charlie Bumpers vs. the Teacher of the Year, won the Beverly Cleary Children's Choice Award and is a popular choice in the One School, One Book program from Read to Them.
Bill Harley tours nationally from his home in Seekonk, Massachusetts, and he's been to over 2,500 schools as well as many storytelling festivals. In presenting Bill with a Lifetime Achievement Award, the Rhode Island Council for the Humanities noted ­­the core of his work as:
…building community; promoting our common humanity; and encouraging lifelong learning, exploring and growing.
From our Storytelling Community at the North Columbia Schoolhouse, we welcome you back, Bill!
Eldrena "Blue Corn" Douma
Featured Teller
Workshop Leader
Eldrena Douma's journey as a storyteller began in her youth on both the Laguna and Hopi-Tewa tribal lands. There she listened to family members and elders tell stories and histories of their people and how they managed to survive during hard times. Through her Sah-yah (grandmother in the Tewa language), she gained a more personal appreciation for the oral traditions of telling folktales and historical and especially personal stories. Eldrena comes from a pottery family on her father's side: In her youth she learned of the journeys and accomplishments of her great grandparents, Nampeyo and Lesou. Nampeyo is credited for the revival of Hopi pottery. Having no transportation off the tribal lands at the time, Eldrena's natural curiosity about other tribes and cultures began. Her imagination was sparked to wonder: Who was looking at the same stars she was looking at? What stories and songs did they hand down? What language did they speak?
Eldrena earned a Master of Science degree in Elementary and Early Childhood Education from Eastern New Mexico University. She currently lives in Amarillo/Canyon and returns as often as she can to her Tribal Nations in New Mexico and Arizona to visit her extended family and reconnect with her Pueblo heritage. Today, Eldrena's travels take her throughout the United States telling stories to audiences of all ages.
'"Drena's personal narratives are so powerful. One of my favorite stories is "Blue Corn" that she tells about a birthday celebration and the love of her grandmother. Another of my favorites is a Christmas story that she shares about how her grandmother became Santa's helper one year. We are so fortunate to feature such a gifted teller for the 2017 festival." –Dr. Trudy Hanson, WTAMU Storytelling Festival
Michael Katz
Featured Teller
Michael Katz has been delighting audiences since 1984 with his nimble words and crafted tales–featured at such illustrious locations as the openings of both the Los Angeles Getty Center and the Disney Concert Hall. Michael has been the host of the radio storytelling program Katz Pajamas heard on NPR station KCBX FM; is one of the founding members of the national touring theater company BOXTALES; and was the founding Artistic Director for the Flying Leap Storytelling Festival in Solvang, California. As well as radio, theater, and storytelling, Michael also coaches telling and is a vocal recording artist. "What a joyful performer! He embodies his characters and charismatically invites everyone in, leaving everyone feeling satisfied and delighted. As a coach, I've found him insightful, supportive, encouraging and aware of each individual's needs."
– Miriam Mills, Asian Art Museum, San Francisco
Michael tells stories that weave together both the comic and the profound using his own highly energetic, animated and interactive style of storytelling. Michael's stories include multicultural folktales, myths, original stories and personal narratives. "Going on a Grimms tale with Michael is a delicious tour of portrait, landscape & sound."
– Angela Lloyd, Storyteller
Muriel Johnson
Featured Teller
Muriel was born and raised in Salisbury, Maryland. She grew up in an environment in which language was celebrated. Her mother was an English teacher, actress, and avid reader. As a child, Muriel would sit in awe as her mother would read, tell stories, sing songs, and recite nursery rhymes. By the age of five Muriel had acquired an extraordinary vocabulary, soaring imagination and gift of expression. It was only natural that when Muriel became a mother and a teacher that she was compelled to share the same way her mother had shared with her. Muriel recently relocated to New England from the San Francisco Bay Area. She is the mother of three children and has been an Early Childhood Educator for 27 years. As a professional storyteller, she has performed at pre-k and elementary schools, churches, museums, colleges, festivals, and countless other venues, from Wyoming to West Africa and California to Cape Town, South Africa. In 2014 Muriel was a featured teller at the renowned Sierra Storytelling Festival in California. In 2017 she had the distinguished honor of emceeing the festival. Adding author to her repertoire, in 2021 Muriel published her first children's book, We Sing Like This.
"I organized LitQuake's first-ever storytelling event this year for LitQuake Marin, and Muriel was our very first teller. None of us knew how many people would show up or what ages they would be. As it turned out, we had a full house ranging in age from 3 – 79. On the spot, Muriel chose stories from her repertoire that engaged and delighted everyone. She's versatile, energetic and, oh yes – good. Truly a delight to work with." Nancy Binzen, Author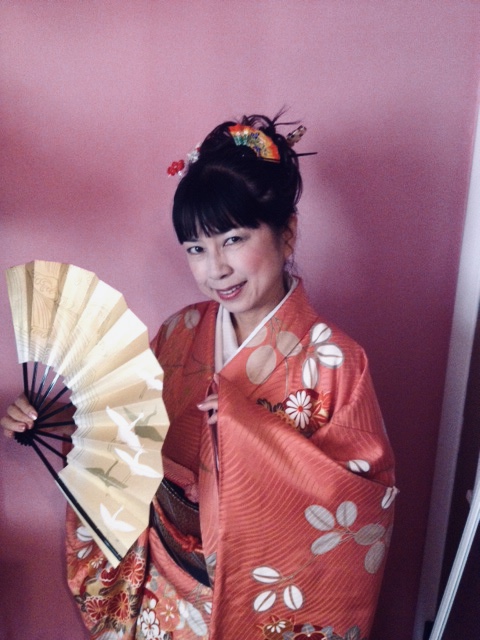 Karin Amano
Featured Teller
Karin Amano was born near Mt. Fuji in Japan's Shizuoka prefecture. Karin moved to Tokyo when she was six and had already written, directed, and performed a school play by the time she was eight! After receiving her Associate's Degree at Obirin Junior College in Tokyo, she moved to New York City and received her Bachelor's Degree in Educational Theater from New York University. Karin has also done multimedia storytelling about the 2011 Japanese earthquake and tsunami for a Japan tsunami relief charity concert at Orlando's Full Sail University. She has been telling stories at theaters, colleges, libraries, cultural festivals, and conventions as a freelance storyteller over the last several years.
She was in a two-person-play called, "Driving Miss Cherry Blossom" written by Eric Pinder in May, 2019, and it won a Critics Choice Award for Best Play-Comedy at Orlando International Fringe Festival. She was also featured at the 47th National Storytelling Festival in Jonesborough, TN as an Exchange Place teller. She was hired as a storyteller by Walt Disney World in 1999 and was a full-time storyteller/comedic actor at Walt Disney World until 2010.
She still performs as a Holidays Around the World storyteller at Epcot's Japan Pavilion every year. Karin not only performs as a storyteller but also does Japanese voice-overs, government leadership training in industrial videos and print modeling. ach, CA
Larry Maurice
Guest Teller
Larry Maurice has spent the last thirty-five years as a cowboy, horse wrangler, and packer in the Eastern Sierra and the high deserts of Nevada. You're likely to find him leading a string of mules into the backcountry, on a horse drive in the Owens Valley of California, or working with Longhorn cattle in Virginia City, Nevada.
​Over the last few years, Larry has had to juggle his need to be on horseback with his entertainment schedule. A sought-after entertainer, not only for his cowboy poetry that speaks from the heart of the day-to-day cowboy, but also for his ability to breathe life into the history of the American West.
Larry has hosted two television specials for FOX in conjunction with the Reno Rodeo, and his one-man show, "Cowboy, The Spirit, The Lore, The Legacy", continues to keep him traveling around the country. Through poetry, song and stories, Larry is able to transport his audiences back in time, allowing them to experience the cattle drives, characters and critters of the old west.
​Larry has been honored with the "Lifetime Achievement in Cowboy Poetry Award" from the prestigious National Cowboy Symposium in Lubbock, Texas. In July of 2000, Larry received the Academy of Western Artists coveted "Will Rogers Cowboy Award" for Cowboy Poet of the Year. His CDs have received great reviews and were nominated for "Album of the Year" by the Academy of Western Artists. Larry can sometimes be found working at his own "2 CENT RANCH" in Palomino Valley just north of Reno, Nevada
"You are one of the most talented performers in Cowboydom. You seem to do it so easy, not forced, natural! You can quote me." – Joe Hannah, Sons of the San Joaquin
​"Larry Maurice is one of the finest Cowboy Poets in the business today. Excellent material delivered with professionalism." – Robert Waggoner, singer/songwriter, 1998 "Wrangler Award"
2022 & 2019 Tellers: