Bill Harley is well-traveled, well-read, well-educated, well-spoken and well-loved. Accompanied by his guitar, his narrative songs and stories, both original and traditional, are a celebration of our common humanity. Best known for his work with children and families, his ability to navigate through a confusing world with humor and wisdom is evident in his masterful storytelling as well as his numerous award-winning recordings and books. A two-time Grammy winner, he is vibrant, outrageous, unpredictable and genuine with songs and stories about growing up, schooling and what it is to be human—our connections with one another and with the planet we share. Recognized by audiences and peers as one of the finest performing storytellers in the country, his work has influenced a generation of children, parents, performing artists and educators. Bill tours internationally as a performing artist, author and keynote speaker from his home in Seekonk, Massachusetts.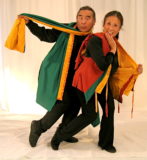 Eth-Noh-Tec is a storytelling theater non-profit founded in 1981 by dancer Nancy Wang and musician Robert Kikuchi-Yngojo. They merged their traditional and contemporary Asian American art forms to create their signature tandem-telling style of movement, music and the spoken word performing the ancient tales of Asia and the inspiring stories of Asian America. They perform nationally and internationally in festivals, theater series, schools, museums and more, and performed for the Clinton and Obama inaugural celebrations, as well as being featured numerous times at the prestigious National Storytelling Festival in Jonesborough TN. They have received the 'Circle of Excellence' and 'International Storybridge' Awards.
Thomason, of Lakota, Plains Apache, and Scot Traveller descent draws on her mixed background in her work. Her storytelling has been featured at the Kennedy Center, Smithsonian Institution/NMAI, London's Barbican, Shakespeare's Globe Theatre, and festivals from Tennessee to Estonia. She has done narrations for the BBC, NPR, PBS, Ireland's public broadcaster RTE, and the National Park Service, including the Emmy-winning documentary "Mystic Voices: The Story of the Pequot War."
A former teacher, Thomason is an NEA and Arts International recipient, Wordcraft Circle of Native Writers' Traditional Storyteller of the Year, and was honored with the National Storytelling Network's 2007 Circle of Excellence Award.
"For nearly four decades, my work has been exclusively in the preservation and continuation of Native cultural arts, utilizing the traditional art form of storytelling. In the past twenty years, I have been braiding original stories made up of our traditional teachings, unspoken stories and erased histories, in hopes of using storytelling as it's always been used—to show us ways of being and being together in good relations."
One of the unique performers on the national storytelling circuit today, Angela has been featured at the 25th (1997), 2003 & 2010 National Storytelling Festival, in Jonesborough, Tennessee and regularly appears at regional festivals and theatres across the country. A virtuosa on Washboard, Angela's performances are a whimsical braid of poetry, story and song played on Autoharp, Tenor Guitar, Spoon and Bell.
Angela's debut recording, Dreams and Other Realities continues to be a favourite and has sold out the second edition. Her second recording, Sandburg Out Loud was re-released in 2012. This collaborative venture of Story, Song, Poetry and Music featured Angela with colleagues Bill Harley, Carol Birch and David Holt. From 2000-2003 Angela was funded by The California Arts Council as an artist in residence at The Walden School in Pasadena, CA. The impact of the residency was so great, the school continued to fund the project independently through 2007. 2019 marks a decade as storytelling teacher in residence at Children's Community School in Van Nuys, Ca.
Michael's mother read and told him stories. He began formally telling stories in high school in the 60's when he discovered amazing stories of Black history and culture that weren't taught in schools.
In 1992, Michael discovered the world of professional storytelling, and he has been telling stories and teaching storytelling around the country and around the world ever since.
Michael specializes in stories of African and African-American history and culture, multi-cultural stories, etc. Since 2014 Michael has worked in California prisons as part of the Arts In Corrections program teaching inmates how to find, develop and tell their stories.
"My life has been one heaven of a story: Student activist, Black Panther, US Army martial arts instructor, acupuncturist, world traveler, spiritual seeker, construction worker, storyteller, husband, father, crazy friend. Never a dull moment!"
"These students had never before met a storyteller and even though I had talked to them about traditional storytelling nothing could match the experience you put them through. As I talked to them later they could retell the stories with ease which proves that they hung on to your every word. The teachers enjoyed the presentation as much as the kids, I looked around the auditorium and saw big grins on their faces."—Kaj Malmstern, Addams School, Long Beach, CA
Special Guest Obo Martin
A true troubadour and fairy tale folklorist Obo Martin is best known for his humor and often sentimental storytelling song-writing style.
His true tall tales of adventure and the great unknown will tickle the funny bone and pluck on the heart strings. His keen Irish Witt and clever turn of phrase are a journey down the rabbit hole to the Imaginal realms.
Obo told on the main stage at the Oregon Country Fair in 2019 and we are thrilled to have him as this years special guest teller.
2019 Tellers: