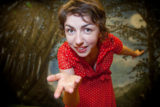 Audiences have always found stories appealing, because we are hard wired to make sense of the world through story. Sitting and listening to a storyteller is incredibly satisfying. An individual gets to go and have a creative artistic experience with the rest of their community, but at the same time there is the individual cinematic experience that goes on in each person's mind. Listening to stories allows us to travel without the burden of cost or even leaving the chair. We can forget our woes and become lost temporarily in another world. Audiences emerge from storytelling experiences often with wide eyes and open mouths because, for a few minutes or a couple of hours, they have forgotten all the things they were worried about. In that that time they have played with gods and goddesses, watched otherworldly beings and experienced things that they thought unimaginable.
Clare is a storyteller. She travels the world and tells stories. She's performed in more than 20 countries since 2006. Clare has played the Globe, Barbican and National Theatres in London as well as many stages worldwide. Her work includes the political folkloric work such as her Syrian piece "The King of Lies" to playful pieces like UniVerse which explores where quantum physics, philosophy and mythology meet. She performs in English. She occasionally performs in Spanish when asked. Clare's wide repertoire of stories includes traditional folklore to ancient mythology, to reportage to historical tales. She tells the story that is called for in each situation; from telling to the President of Ireland to performing at the Writers room of the Royal Shakespeare Company.
She is a trainer with TheatreWorks at the National Theatre, as well as the Young Vic Theatre London. Clare has trained Royal Shakespeare Company actors, staff and management of many companies, corporations and institutions such as The National Trust UK, the National Theatre London, Jaguar LandRover, Bank of America, Prince's Trust, as well as smaller organisations including staff at homeless shelters, Jungian Analysts, university professors and refugee groups.
"Clare Muireann Murphy's beautiful lilting Irish voice was in stark contrast to the darkly humorous stories she told us, and she her first-rate comic physicality only served to enhance her storytelling. " Everything Theatre 2015