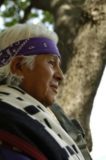 Larry Littlebird, founding director HAMAATSA, is a Pueblo Indian from Laguna/Santo Domingo Pueblos in New Mexico. Larry Littlebird celebrates an indigenous holistic way of life. A master storyteller, Native filmmaker and author, Larry shares spiritual roots of sustainability and ways of blessing for inspiring transformative leadership and social action. His experiential programs have had a profound impact on people's lives, globally and locally.
As a filmmaker, writer and performing artist, Larry is one of the first American Indians to produce, write and direct films for and about Native people in the United States. Larry is also the author of Hunting Sacred—Everything Listens: A Pueblo Indian Man's Oral Tradition Legacy, which introduces readers to a timeless story of living in correct relationship with all life and is Larry's personal legacy of story, song and art from his rich oral tradition.
He is the founder of the performing arts troupe Coyote Gathers His People, which toured nationally with Naa Kahidi Theater in 1996 and 1997. Larry is a visionary social entrepreneur having founded a Native owned business and three nonprofits. He personally trains and equips people in the areas of generative leadership development, team building, communications, holistic health and community building. His inspired programs have had a profound impact on many lives working with individuals, business executives, management teams, tribes, foundations, schools and community organizations. Providing spiritual guidance through his remedial work with listening circles, story camps and wilderness pilgrimages, his clients are able to realize a cathartic process within their own lives.
https://www.youtube.com/watch?v=omFGb9wf3Go